Tuesday, Dec 09 2014
By DARLA A. BAKER Tehachapi News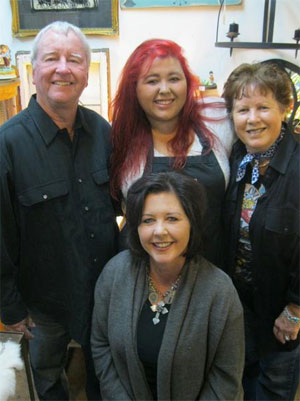 Soon after Michele Borquez moved to Tehachapi 15 years ago, she entered a contest for Sunset magazine where she was asked to write why she felt her "little" town was the best in California. Her response was, "What's so great about this town is everyday you feel like you are on an actual vacation."
Sunset loved her answer and printed her response. She and her husband, Louis, were thrilled to see Michele's response in one of their favorite magazines, but thought nothing more about it until Michele went to pay her propane bill one day.
"I went in to pay my bill, and somebody asked me if I was the Michele Borquez who wrote about Tehachapi in an article in Sunset magazine," she said. "They said to me, 'Now you're gonna make our town too big,' and I thought that was really funny. I thought it would be good if it got people to come to Tehachapi."
Originally from Santa Monica, Michele grew up 11 blocks from the beach, and lived a very busy, if not hectic, life.
"I was working all the time in Santa Monica," said Michele. "I wasn't even enjoying the beach anymore because all I was doing was working, working. So I had this great idea that I would move to the country and not have to be in such a work mode, and it actually worked out."
Michele and her husband packed up their two young children, Cierra and Bayla, who are now 19 and 16, respectively, and moved to Tehachapi along with Michele's parents, Doug and Alice Middleton.
"What brought us here was I was sitting at my computer one day looking at all these country farm pictures of all these beautiful places in Oregon, and I told my family, 'We are out of here in 30 days,' and they thought I was crazy. But, sure enough, in 30 days, we started up the coast and we made our way down."
After searching the northern part of the west coast for a new country home, the family decided on Tehachapi instead because Alice once taught tennis in Bear Valley Springs as a professional player.
"She played in the U.S. Open and was number one in her age division," said Michele. "We played mother and daughter doubles and ranked nationally."
After Alice retired from her tennis career, she and Michele opened up the very first resale baby store in Santa Monica which they called "Oohs and Oz." They later opened up an antique store which they called... you got it..."Auntie Em's." After moving to Tehachapi, mother and daughter continued to maintain their stores by driving to Santa Monica, rotating their commutes each week between the two of them. Three years later, they decided they had had enough of all that driving, so they sold their stores in Santa Monica, and really began to settle in to Tehachapi life.
The Borquez family and the Middletons share a large home on Banducci, with a gigantic chicken standing sentinel in front of their property. Michele bought the chicken from an estate sale after the passing of legendary actor Jack Palance. Attending that estate sale was a life changer for Michele. She decided to open up her own estate sale business in Tehachapi, calling it Go2Girlz.
"I was a personal assistant in Los Angeles. One of my clients there was calling me, and saying, 'Oh, she's my Go To Girl,' so that is how the name was born," said Michele.
She said her business is based on the three D's: Downsizing, death and divorce.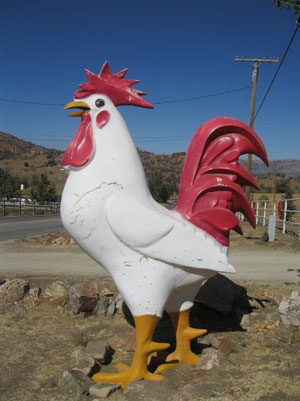 "I started off as a personal assistant helping people who just didn't have access to the internet," said Michele. "They didn't know how to sell their stuff, and they just didn't know what to do. Most were in a time crunch because a lot of times when people are selling their homes, they are like, 'Oh my God, I'm leaving in two weeks, and I have all this stuff. What am I going to do?'
"Basically, what we do is we go into the homes after they leave and take what they want with them, and we prepare estate sales for the items they leave behind. We tag everything, we price everything, we mark it. It's a really big process," she said.
Today, Michele and her husband continue to share a home with her parents. Since moving to Tehachapi, they have added two more children to their family, Diego, 13, and Maya, 11. Her father, Doug, has continued his career as a Realtor, working with Keller Williams in Tehachapi.
Go2Girlz is busy now moving into the 100-year-old home on the corner of Dennison and Tehachapi Boulevard, most recently occupied by RST Cranes, which moved into the industrial area to the east of that location.
"Now we can dress the house up like an actual house instead of packing everything into a warehouse," said Michele. The family continues to work side by side, even the children. Cierra has joined the Go2Girlz staff full time, and Bayla sometimes works as a cashier.
"We have always been a very close family," said Michele, adding with a laugh, "it's a family affair."